Prof. Dr. Christian Laforsch honoured as Professor of the Year
02.11.2023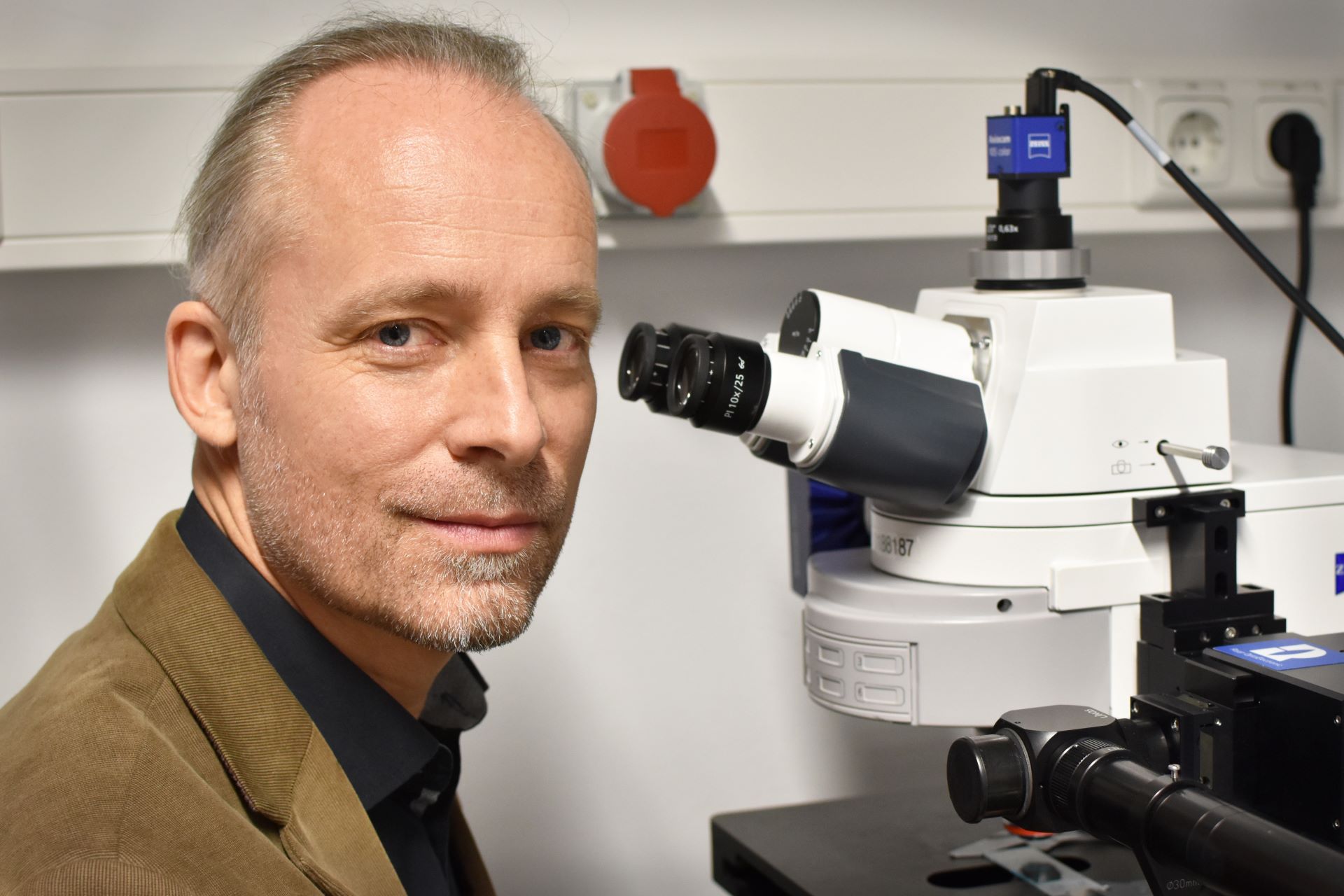 Prof. Dr. Christian Laforsch, Chair of Animal Ecology I and spokesperson of the Collaborative Research Centre Microplastics at the University of Bayreuth, may now hold the title "Professor of the Year". The UNICUM Foundation has awarded him this title.

Since 2006, the UNICUM Foundation has awarded the "Professor of the Year" annually in a nationwide competition. The competition is under the patronage of the Federal Ministry of Education and Research and the Federal Ministry of Economics and Climate Protection and honours those professors who support their students in a special way in preparing them for their careers. The prize is awarded in four categories, humanities/social/cultural sciences, engineering/computer science, medicine/natural sciences and economics/law. Three professors are awarded in each category. Prof. Dr. Christian Laforsch from the University of Bayreuth took second place in the Medicine/Natural Sciences category behind Prof. Dr. Sonja Bröer (FU Berlin).
"Prof. Dr. Christian Laforsch is not only incredibly committed to research and as the spokesperson of the SFB Microplastics, he also shapes his teaching in a way that engages students and understands how to support young scientists in such a way that they find their individual career paths," says Prof. Dr. Stefan Leible, President of the University of Bayreuth. "I am very pleased that we have Christian Laforsch at the University of Bayreuth."
After Prof. Dr. Christian Laforsch was nominated, he was supported by the doctoral and post-doctoral students of the Chair of Animal Ecology as Professor of the Year 2023. His enthusiasm for the subject and his passion and commitment are a great role model and are also reflected in the extremely positive evaluations of his courses year after year. He always integrates current topics into his interactive courses and demonstrates the importance of interdisciplinary collaboration. He has helped students develop and implement their own ideas through his experience and mentoring.
"In addition, he encourages us to supervise students in their final theses in order to gain valuable experience in promoting and supervising employees, which will be of great benefit to us in our future professional lives," the letter of recommendation states. In addition, Christian Laforsch shows great interest in the individual career goals of students and doctoral candidates and takes the time to talk about long-term plans so that the required skills can be developed. "Under his guidance, we feel not only part of a team, but also individuals who are supported on the path to success."
"In my teaching, on the one hand, I try to prepare students for a career in science, guiding them towards their own first scientific 'moon landing': a scientific question that has not been explored by anyone else to date. On the other hand, I also specifically prepare students for the possibility of a career outside of science. A major concern of mine is the personal discussion with the students after the lectures, in which I also explain what career opportunities are open to biologists outside the university, for example in industry, district offices or landscape planning offices," says Prof. Christian Laforsch. "But I also go into detail in the relevant lectures, seminars and practical courses.
In doing so, I would like to train a new generation of scientists who are equipped to face the urgent future questions in the field of global change in an interdisciplinary way and to develop new innovative approaches to solutions."
Prof. Dr. Christian Laforsch is the first professor from the University of Bayreuth to receive this award. So far, three third places have gone to Franconia since 2006. In total, 20 professors in Bavaria have received the award in the last 18 years.
The award winners were selected by an independent jury chaired by the former rector of the University of Duisburg-Essen, Prof. Dr. Ulrich Radtke.